Exhibitors & Education Partners
---
GOLD LEVEL
Edgenuity provides online and blended learning solutions for students in grades K-12 including core and credit recovery courses, intervention and test readiness programs, virtual instruction, and professional development. Our solutions propel student success, empower teachers to deliver effective instruction, and enable schools to meet their academic goals. Learn more at Edgenuity.com.
Before Education Lifeskills was formally created, our parent company ACCI Lifeskills (American Community Corrections Institute) received an increasing amount of requests from schools, school districts and parents to develop a catalog of courses expressly for junior high and high school students. The number one consistent theme for feedback about our curriculum that we received from our criminal justice clients and program participants was that they wished that they had been taught ACCI's essential cognitive life skills while they were in school. Thousands of participants told us they wish they could have avoided painful consequences by learning and living the principles found in all of our cognitive life skills courses.
The Utah Virtual Academy uses the
K12 online curriculum
to offer Utah students in grades K-12 an exceptional learning experience. With individualized learning approaches, the Utah Virtual Academy and K12 provide the tools kids need to succeed - in school and beyond.
Shmoop We Speak Student
Since 2009, Shmoop has been a digital publishing company with a point of view. Our teaching method revolves around the basic idea that learning is often too hard—so we carry gallons of humor-laden academic WD-40 to squirt on the tracks whenever we can. If students enjoy the process, they will do it...more. We own 100% of our content and present both a consistent voice and a distinctive product offering. Our free Learning Guides, Online Courses, College Readiness Prep, and Test Prep balance a teen-friendly, approachable style with academically rigorous materials to help students understand why they should care. Not one to leave the visual learners hanging, Shmoop also boasts a massive—and always growing—library of thousands of videos, covering everything from literature and history to math and finance.
Check out our "What Is Shmoop" video (part of our ever-growing ShmoopTube) or read about us in the press.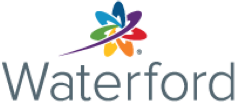 How Can You Change a Child's Future
Waterford was founded in 1976 by a pioneering educator who believed he could use technology to help promote the academic success of every child. Today, that's still the belief that drives us.
NWEA is a research-based, not-for-profit organization that supports students and educators worldwide by creating assessment solutions that precisely measure growth and proficiency—and provide insights to help tailor instruction. For 40 years, NWEA has developed Pre-K–12 assessments and professional learning offerings to help advance all students along their optimal learning paths. Our tools are trusted by educators in more than 9,500 schools, districts, and education agencies in 145 countries.
UEA We Educate Utah
For more than a century, the Utah Education Association has been dedicated to preserving and enhancing Utah public education. The UEA represents about 18,000 active classroom teachers, retired educators, administrators, licensed educational support personnel and students in education programs at universities.
We change the world by changing behavior.
Our mission: Help people achieve greatness by turning proven behavioral science principles into learnable, repeatable skills delivered through exceptional learning experiences.
Founded in 1990 by psychotherapist, and New York Times® best-selling author, Flip Flippen, our research-based tools and processes combined with expert coaching and training have brought transformation to many of the most respected school districts, Fortune 500 companies, governments, sports teams, and non-profit corporations in the world. We combine our passion for people with scientific research to build teams and individuals into models of achievement.
"Every person and organization is on a journey, but not every traveler is willing to read the map to take the best route. You can choose to live life as you always have, or you can choose to identify and overcome what has held you back."
Flip Flippen - Chairman/Founder 
DreamBox Learning
is the only K–8 digital math program powered by students, built by and for educators, and independently proven to positively impact student achievement. By tracking each student interaction and evaluating the strategies used to solve problems, DreamBox continuously and automatically adapts to each student in real time, allowing all learners, whether at grade level, struggling, or advanced, to progress at a pace that best benefits them through the lessons they are ready for. By dynamically adapting and differentiating to support all students at their right level, DreamBox is a powerful partner in every classroom, school, and district.
Tap your way to a better you
Bi-Tapp is a product that incorporates an understanding of how our brain works in moments of heightened stress and anxiety. Bluetooth tappers are placed on each side of your body and within a short amount of time, you begin to feel calmer as the tappers tap back and forth between the two tappers. You can hold the tappers, wear them with wristbands, put them in socks or pockets, etc. Bi- Tapp is being used as a calming resource by school administrators, school counselors, in wellness rooms, special education classrooms, behavior management classrooms and in general classrooms.
Decrease in stress and anxiety
Decrease in emotional dysregulation
Increase in focus and productivity
Increase in test scores
Increase in emotional resiliency
Because Children Learn by Doing Providing the Highest-Quality, Hands-On Programs and Materials
Science classroom resources offered by Delta Education engage students in science and engineering practices, promote science inquiry, literacy and achievement, all while aligning to the Next Generation Science Standards and supporting the Common Core State Standards. We offer research-based FOSS® curriculum and other programs such as Delta Science Modules and Delta Science Content Readers, as well as hands-on classroom resources. Supporting pre-K to 8th-grade educators, our science curriculum products embody the best in inquiry-based STEM education, helping you excite and engage your students.
---
We Network for Education and Healthcare in Utah!
UETN connects all Utah school districts, schools, and higher education institutions to a robust network and quality educational resources. UETN is one of the nation's premier education networks. That mission encompasses a variety of services and a substantial infrastructure that serves public education, higher education, libraries, hospitals and clinics. As a state-supported agency, UETN strives to provide transparent, economically responsible technology leadership statewide. The advisory board guides top level commitments and informs key decisions with representational input. Well-informed board members have an opportunity to influence the future of education and telehealth in Utah, and ultimately economic development across the state.
Transform Your Life for Good.
Welcome to Utah State University Eastern
A great stride has been made to advance the educational opportunities of students and community members in Eastern Utah. Utah State University and College of Eastern Utah have joined forces creating Utah State University Eastern.  USU Eastern provides the best of both worlds - the feel and personalized attention of a community college with the educational opportunities and resources of a university. USU Eastern is able to provide personal or professional development training as well as associate, bachelor, master and doctorate degrees. USU Eastern is committed to supporting our students and members of our community through quality education and an enjoyable campus experience.
Snow College was founded in 1888 as the Sanpete Stake Academy by members of The Church of Jesus Christ of Latter-day Saints. In 1900 it was renamed Snow Academy in honorof Lorenzo Snow, president of The Church of Jesus Christ of Latter-day Saints, and his cousin Erastus, who was instrumental in settling the Sanpete Valley.
The institution went through three more name changes in a seven-year period. In 1917, the academy era ended and the school became Snow Normal College. In 1922, officials renamed the school Snow Junior College only to change it one year later to Snow College. In 1931, The Church of Jesus Christ of Latter-day Saints divested itself of Snow College and it became a state supported institution.
Over the years, Snow College had been the educational, artistic, musical and sports center of Central Utah. Encouraged by Snow's high academic standards and dedication to the pursuit of knowledge, thousands of graduates have gone on to earn higher degrees at colleges and universities throughout the country. Thousands of others have graduated from Snow fully prepared to find employment in a wide variety of fields.
Come learn with us!
We're here to support you on your educational journey. For more than 96 years, we've been offering innovative course options for students of all backgrounds. No matter where you're at across the globe, our world-class technology gives you access to the help and instruction you need, at your convenience.   Enrollment to BYU Independent Study is open to anyone at anytime of the year.